13 views - published on
June 14th, 2013
in
Disney News
tagged
Disney
,
disney news
,
disneyland
,
walt disney
,
walt disney world
"Saving Mr. Banks," starring Tom Hanks, Emma Thompson and Colin Farrell, will be widely expelled on Dec. 20. The film is about how "Mary Poppins" was combined and a severe attribute Walt Disney had with a book's author P.L. Travers and how Disney struggled to make a movie. Hanks is personification Walt Disney.
Kermit a Frog, Miss Piggy and other members of a Muppets squad come behind subsequent year in a "Muppets Most Wanted," a supplement to a 2011 film "The Muppets." It will arrive in theaters Mar 21. The film stars Tina Fey, Ricky Gervais and Ty Burrell.
Disney also announced a recover of "Planes: Fire Rescue," that will strike theaters in 3D on Jul 18, 2014, followed by DreamWorks' "The Hundred-Foot Journey," approaching to open Aug. 8, 2014.
Later in a year, "Alexander and a Terrible, Horrible, No Good, Very Bad Day" will arrive in theaters in October. The film stars Steve Carrell and Jennifer Garner and is formed on a children's book that focuses on all a bad things that occur to a family after a child wishes his family would knowledge all a terrible things he does.
"Tomorrowland" was pushed adult to be expelled Dec. 12, 2014. The much-anticipated "Into a Woods," formed on a strike Broadway musical, arrives Christmas Day 2014.
Disney also announced dates for dual Marvel films that sojourn untitled. The initial comes out May 6, 2016, followed by another on May 5, 2017. "Avengers 2" is approaching to strike theaters May 1, 2015.
ALSO:

Rupert Murdoch files for divorce from Wendi Deng
Fox Searchlight loses pivotal statute in novice labor lawsuit
News Corp. CFO David DeVoe to retire; John Nallen to attain him
Twitter:@DiangeleaMillar
MORE
INTERACTIVE: TVs top paid stars
ON LOCATION: People and places behind what's onscreen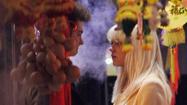 PHOTOS: Hollywood behind lot moments