Disney Beach Club Villas Bring Elegance, Romance, and Charm
At the Walt Disney World Resort in Orlando, Florida, visitors can choose from a wide array of Disney's Beach Club Villas, a resort-like combination of leisure, elegance, romance and charm. Disney Beach Club Villas are within walking distance of both Epcot Center and Disney's Boardwalk Area.
The Disney Beach Club Villas are a popular location for those looking to invest a timeshare. Timeshares at the Disney Villas can vary greatly in price depending on the type of stay a vacationer is expecting.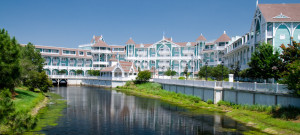 For those looking to invest in timeshares in Disney World, Disney offers their "Disney Vacation Club" incentive package. Through the Disney Vacation Club, vacationers earn points for booking timeshares, as well as a percent share of an undivided real estate interest at one of their home resorts. The points are awarded annually and can be used towards future timeshare purchases at any Disney Villa.
Disney Beach Club Villas
The units in the Disney Beach Club Villas area are based on 20th century Eastern seaboard architecture, and offer either garden or pool views. Timeshares at Disney's Beach Villas are available in either one bedroom and two bedroom options. Timeshare rentals at the Beach Villas range in price from as low as $250 a night to over $1000 a night. Resale values for timeshares at the Beach Villas range from as low as $100 to as high as $28,800.
Amenities at the Beach Club include a sauna, spa services, health center, tennis court, whirlpool, hot tub, game room and more.
At Disney's Beach Club Villas, guests can relax in their multi-room suites, take a swim in any of the beach resorts' in-ground pools, or take complimentary buses to any of Walt Disney World's theme parks, restaurants or shopping centers.
Parking is complimentary at the Disney Beach Club Villas, as is Wi-Fi internet access in all of the suites. Childcare services are available for couples who want to enjoy a night out on the town, and laundry services are provided for those who are staying for an extended period of time.
Located on site are three leisure pools where guests can relax and catch some rays, or go for a leisurely swim. Also located at Disney's Beach Club Villas, guests can find "Stormalong Bay", a water park which features a 230 foot water-slide, a lazy river, three whirlpool spas and an elevated tanning deck.
Fantasia Gardens and Fairways golf course is an eighteen-hole mini-golf course and putting green located at the Disney Beach Villas. The golf course is themed after whimsical Disney characters is great activity for couples and families staying at the resort.