Grand Californian Hotel and Spa is the ultimate in accommodations
For children and adults of all ages few things are more fun than a Disney vacation. There are many wonderful Disney destinations and packages to choose from. Disney's Grand Californian Hotel and Spa is an excellent choice featuring gorgeous accommodations, fine dining, and an endless variety of activities. Located in Anaheim, California, this Disney hotel offers everything the Disney name is famous for.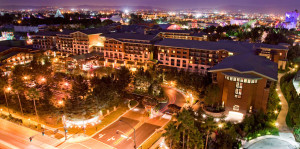 Accommodations
Disney's Grand Californian Hotel and Spa is the ultimate in opulent accommodations. The interior lobby with high beamed ceilings and exquisite decor is dripping in luxury. While lounging in the central courtyard guests can watch as the monorail passes through. The Mandara Spa offers several specialty massages and facials. There are also spa tubs and a pool bar. There are three pools on the premises, one with a 100-foot-long slide. If Mom and Dad want to enjoy some time together, Pinocchio's Workshop is an on-site childcare facility that offers a variety of fun activities provided by a trained staff.
Dining
The Napa Rose Restaurant provides a high dining experience with an expansive wine list. The Hearthstone Lounge offers more casual dining and is open for breakfast, lunch, and dinner. Storytellers Cafe is near the main pool and serves an impressive variety of mouth watering food in a buffet style. There is a daily character breakfast featuring characters such as Pluto. Reservations are suggested. Whitewater Snacks is a good spot if the family is looking for something light to eat.
Amenities
The hotel offers art classes for the kids, including a build-a-bear workshop. There are beauty studios where a guest can get hair and nails done or indulge in a complete makeover. There is a live pianist in the hotel lobby and a game arcade. The hotel staff also sets up a scavenger hunt throughout the hotel. This happens in the late afternoon on a daily basis. In the morning a power walk is offered for guests wanting to get in some exercise while seeing the sights of the park before it opens. It is advised to sign up for the walk ahead of time.
Grand Californian Hotel and Spa
The Grand Californian Hotel is within walking distance of the Disneyland Park and the Downtown Disney District. There's even an exclusive entrance from the hotel to Disneyland for guests. Hotel guests can also enjoy early admission to Disneyland before the park officially opens to the public. This stunning theme park has dozens of rides and activities for all ages. Some of the highlights include riding Pirates of the Caribbean, the Indiana Jones Adventure Ride, and the classic, Space Mountain.
It's hard to beat Disney's Grand Californian Hotel and Spa for luxurious accommodations, a variety of dining choices, and close proximity to the park. A member in the Disney Vacation Club can use vacation points to stay in this beautiful hotel.