Disney FAQ's – Frequently Asked Questions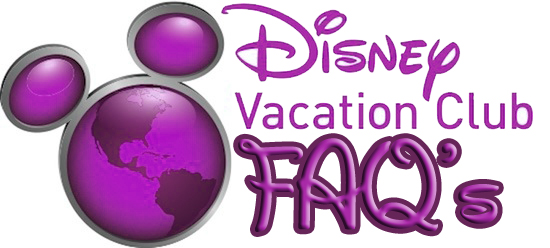 Disney FAQ #1 – How Does Disney Membership Work?

Members of the Disney Vacation Club will receive an annual or biennial set of Vacation Points. These points can be used to book vacations at

Disney Vacation Club Resorts

, the Disney Collection of resorts. Such as the Disney Cruise Line, or Adventures by Disney. Each unit size, season, and resort has a point value, with that value being higher for weekends, prime season, and for larger rooms. Unlike many timeshares, Disney Vacation Club owners are not limited to a seven night stay or a weekend check in.  Owners can book as many vacations as they like for any amount of time. Points can be either banked or borrowed to accommodate any vacationing needs. Additionally, Disney is affiliated with the exchange company RCI, which expands the available spots to go to over 5,000 resorts world wide.

Disney FAQ #2 – What is a Home Resort, and When Can I Reserve?

Although DVC members can access any of the

Disney

resorts, each ownership is tied to a Home Resort. Owners are permitted to book 11 months in advance at their Home Resort, and they can book up to seven months in advance at any other resort in the Disney Vacation Club network, meaning owners receive priority at their home resorts. Reservations are made on a first come, first serve basis, depending on availability.

Disney FAQ #3 – What Does a Right To Use Contract Mean for Disney Vacation Club Owners?

Although DVC owners have real estate interest in their Home Resort, memberships are sold on a right to use basis, meaning that there is an expiration date on the contract. After the contract expires, owners will have to renew their contract.

Disney FAQ #4 – What are the Maintenance Fees for Disney Vacation Club?

Maintenance fees are calculated based on the number of points owned and the Home Resort.

Disney FAQ #5 – What are the rooms like at the Disney Vacation Club Resorts?

Disney Vacation Club Resorts are designed with the comforts of home for families of all sizes. Many of our rooms feature fully equipped kitchens, private balconies, whirlpool tubs and DVD players. Our 1, 2 and 3 bedroom rooms have master bedrooms with adjoining bathrooms. These villas also have living areas, and all were created specifically for Disney Vacation Club with a touch of Disney magic. Members can choose from comfortable Deluxe Studios that sleep up to 4 people to spacious Grand Villas that can sleep up to a group of 12.

Disney FAQ #6 – Where can I go besides Disneyland Resort and Walt Disney World Resort?

Besides Disneyland

Resort in California

, Walt Disney World

Resort in Florida

and Disney Resorts in France, Hong Kong and Japan—there are other Disney destinations, such as cruises to exotic ports of call via Disney Cruise Line and family tours in the U.S. and abroad with Adventures by Disney, all available to Members purchasing directly from Disney.You can also head to the Atlantic coast and relax at Disney's

Vero Beach Resort

and Disney's

Hilton Head Island Resort

or explore the coast of Hawaii at our newest Disney Vacation Club Resort: the truly spectacular Aulani, Disney Vacation Club VillasAnd beyond the magic of Disney, there's a whole world of countries and cultures to explore.

Disney FAQ #7 – How long can I stay and how often can I vacation?

Unlike traditional timeshares, a Disney Vacation Club Membership allows you to vacation more than once a year. In fact, you can vacation as long and as often as you like, based upon your available Vacation Points and the availability of accommodations. If you don't have enough Vacation Points in your annual allotment for the amount of time you want, there's the option to borrow from the year ahead. You can also bank your year's Vacation Points to save for a trip the following year. It's a truly flexible system.

Disney FAQ #8 – Is my purchase a real estate transaction?

Yes. Your purchase is a real estate transaction for which you receive a recorded deed. This deed represents your "ownership interest."  This ownership interest entitles you to an annual allotment of Vacation Points that you use to reserve accommodations.

Disney FAQ #9 – Why is Disney Vacation Club a better option than a vacation rental or buying a vacation home?

With Disney Vacation Club, you can enjoy all the advantages of home ownership without the expense, responsibilities or stress of maintaining a vacation home.

Vacation rentals usually require a minimum stay, so there's less flexibility. With Disney Vacation Club, you don't have to spend your valuable time and energy researching and budgeting for hotels or vacation rentals every time you want to vacation. There's no guesswork involved with where to stay.

If you buy a vacation home, you're limited to that one location. With Membership, you have hundreds of options to choose from. A Disney Vacation Club Membership gives you access to beautiful accommodations near championship golf courses, Disney attractions, world-class shopping centers and more.

Here are some other things to consider:


With Disney Vacation Club, you can be assured that your Disney Vacation Club Resort is maintained to Disney's high standards.
Membership gives you access to vacation-planning advisors and discounts on select shopping, Disney Annual Passes and recreation, such as golf memberships.
Disney Vacation Club Resorts offer a variety of spaciously equipped accommodations ranging from Deluxe Studios that sleep up to 4 people to Grand Villas that sleep up to 12.