Disney Once Again Making It Great
No more paper tickets at Disney anymore, that is, if you don't want them.
They just introduced their new Disney Magicband bracelet that works with their MyMagic+. Together they are an extremely useful piece of technology. The Disney Magicband gives you access to your room, it doubles as a theme park ticket, among a few more neat things. They have already been using them in Florida, and the reaction has been wonderful.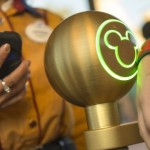 The Magicband is expected to make tickets, keys, cash and credit cards not needed by guests of Disney. You just simply swipe your band to get on rides, buy items, you can even get on waiting lines for the best rides. The Magicband is intended to give that personal feel, such as saying your childs name when near a character, or knowing it's their birthday.No worries if you are not the 'information sharing' type, Disney has stated that these bracelets will be optional .
On MagicBand

"Guests will not be forced to use the Disney MagicBand system, and people who do try it will decide how much information to share. An online options menu, for instance, will offer various controls: Do you want park employees to know your name? Do you want Disney to send you special offers when you get home? What about during your stay?" – NYT
Now just imagine the joy and excitement that will fill your child's face when Mickey or Cinderella were to greet them by name and even say Happy Birthday. So what do you think? Will you be trying out the new bracelet and enjoying the personal touch without all the carry on luggage, so to speak.
You can design and create, and build the most wonderful place in the world. But it takes people to make the dream a reality.
Walt Disney